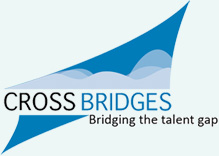 Anuradha Bharadwaj : Comes with over 15 years of experience in the corporate world.
Anuradha managed the Global Mobility Function of a Fortune 100 Corporation. The entrepreneurial bug eventually caught up with Anuradha when she accepted the position of Partner at HR Bridges, whose reputation she helped build. She is a graduate in Sociology from Hindu College and has a Masters in Social Work along with an MBA in Finance. Ask her to list her achievements and she quips, ' Nothing can replace the excitement and satisfaction of helping shape the careers of talented individuals and I have personally made a difference to more than 200 so-far'
Managing her daughter's fledgling badminton career and encouraging her son's musical and culinary pursuits occupy Anuradha's personal time...
Vasanth Bharadwaj
An interesting combination of a high achieving Sportsman, HR leader and an Entrepreneur. Vasanth has had successful stints in corporate India , his last assignment was as Sr. Director Human Resources -Roamware inc. In addition to donning the mantle of Founding Director of TENVIC a sports education company, Vasanth provides the strategic input to Cross Bridges and resides as our Thought Leader.