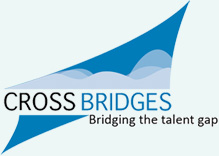 Cross Bridges is a premiere Talent search
firm with Pan India reach.
With a deep understanding of the mission critical needs of corporations, Cross Bridges recognizes the need for agility and influence in the eco system to produce results. Our customers often compliment us on our research capabilities and turn- around timelines.
There was never a happier moment at cross bridges when a candidate said "I found a career counselor in Cross Bridges and not a mere Talent search firm"
We value our strengths in the highly competitive Indian IT industry as a distinct advantage.
Our mission is to be the "Best Indian Executive Search Firm".